Ad blocker interference detected!
Wikia is a free-to-use site that makes money from advertising. We have a modified experience for viewers using ad blockers

Wikia is not accessible if you've made further modifications. Remove the custom ad blocker rule(s) and the page will load as expected.
Lars Riste Tvedt, 2005-02-17

God oppslutning
BODØ: Med 146 påmeldte deltakere og 5 minusgrader ble det arrangert skiskyttermerket på Bestemorenga onsdag 16. februar. Arrangøren var Idretten, med god hjelp fra LVAbn og velferden.
Av Marius Dammyr, idrettsinstruktør Bodø hovedflystasjon (tekst)
Foto: Maren Hamland, fotolærling, Bodø hovedflystasjon Fra v. Igland(Idrettsinstruktør og hovedansvarlig for start området)og Nr.28 Eirik Talberg.
Det ble en lang og kald dag for mange, men med servering av varmt å drikke på to steder i løypa og en militærgjeng med godt humør var det ikke vanskelig å holde varmen og humøret oppe. Var man kald og ville varme seg var det bare og ta en tur opp i varmestua og få seg en vaffel eller to.
Imellom start og mål var det ca 10 km som deltakerne måtte gå. Som tilsier 2 runder før de kom inn på oppløpssiden og i mål. Det ble kjørt 2 klasser, en sivil og en militær. I den sivile klassen stilte 19 deltakere med sivile ski. Etter disse hadde passert mållinjen var det opp til undertegnede og preparere til den militære klassen på natoplanker. Med 125 deltakere til start og et minutts mellomrom var det bare natoplanker som gjaldt resten av dagen.
Foto: Marius Dammyr, idrettsavdelingen, Bodø hovedflystasjons Nr 73 Jørn Inge Henriksen Foto: Marius Dammyr, idrettsavdelingen, Bodø hovedflystasjon
Etter en kort tur i løypa og inn på standplass var det klart for liggende skyting på en 160 meters bane. I den sivile klassen ble det skutt etter 1.5 km og 6.5km. 5 skudd per runde og per bom ble det lagt til et minutt i tiden. I den militære klassen ble det skutt 10 skudd på første runde og ingen på andre. Et minutt tilegg for hver bom.
Det var mange flysoldater som stilte til start og de var meget fornøyde med arrangementet som hadde skapt et lite avbrekk fra den daglige tjenesten.

Foto: Maren Hamland, fotolærling, Bodø hovedflystasjon Ukjent skiløper gjør det skarpt. Foto: Maren Hamland, fotolærling, Bodø hovedflystasjon
Kaptein Tom Kjær fra LVBN 51 M sier han var meget fornøyd med arrangementet. - Det er ingen dum ide med vafler og varmt å drikke, tilføyer Kjær. Som deltager i den militære klassen storkoste han seg på lik linje med resten av de høye herrer blant ungdommen.
Idretten vil takke for at så mange deltakere stilte til start og alle som hjalp til for at arrangementet skulle bli så vellykket som det ble. Med fornøyde arrangører og deltakere kan man vel konkludere med at denne dagen og arrangementet var vellykket.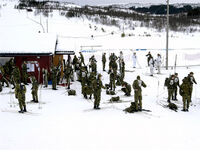 Foto: Maren Hamland, fotolærling, Bodø hovedflystasjon MANGE DELTAKERE: Det var 146 påmeldte deltakere med i årets skisktterrenn Foto: Maren Hamland, fotolærling, Bodø hovedflystasjon