SkullMeramon is an character from Digimon. He is the one of Myotismon's henchmen in the episode 32 in Digimon Adventure. SkullMeramon is one of the Skull Digimon along with SkullGreymon and SkullSatamon.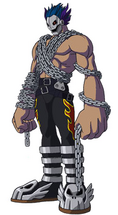 Counterparts
Lorry 3, Smudger, or Bert - Thomas the Tank Engine
Zak - TUGS
Oliver - Theodore Tugboat
Nack the Weasel - Sonic
Ad blocker interference detected!
Wikia is a free-to-use site that makes money from advertising. We have a modified experience for viewers using ad blockers

Wikia is not accessible if you've made further modifications. Remove the custom ad blocker rule(s) and the page will load as expected.