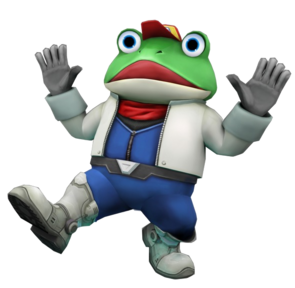 Slippy Toad
is a childhood frog in
Star Fox
games.
Bio
Species: Frog
Age: 29
Skin Color: Green and White
Clothing: White Jacket, Blue Jumpsuit, Red Bandana, Red Hat, White Boots, Grey Gloves
Allies: Fox McCloud, Peppy Hare, Falco Lombardi, Fay, Miyu, Bill Grey, Katt Monroe, Beltino Toad (father), General Pepper, Rob 64, Krystal, Amanda (girlfriend), Freddy Toad (son)
Enemies: Andross, Wolf O'Donnel, Leon Powalski, Pigma Dengar, Panther Caroso, Andrew Oikonny
Quotes
"Enemy shield analyzed!"
"Escaping? I don't think so!"
"You did it! I was worried for a moment."
"Fox, get this guy off me!"
"Thanks, Fox! I thought they had me."
"This baby can take temperatures up to 9000 degrees!"
"I'm monkey food if I don't leave!"
"Hey! What's the big idea?!"
"Ahh ha! Thought you could hide from me, eh?"
"Thanks a lot, Peppy!"
"Sheesh, Falco! You too?"
"Hard to tell the good guys from the bad!"
"Hold the A/B button to charge your laser!"
"You're making me mad, Fox!"
"Hey! He was mine!"
"Slippy's hit!"
"Hoo! That Was too close!"
"Aaaaaaaaaaaaaaah!"
"Aaah!! Not cool, Fox!"
"Aaaah! I'm hit!"
"Foox!!"
"Fooooox!!!!"
"You wanna peice of me?!!"
"Fox, are you okay?"
"Here comes the big one!"
"Enemy robot dead ahead!"
"Hey! Leave me alone!"
"Incoming!"
"What do you think you're doing, Fox?!"
"Take that!"
Counterparts (Mario Version)
Counterparts (Star Fox Version) (Do not edit or delete, but you can add)
Gallery