Sneak Peeks from Character Story 2 2009 DVD (VF2000's version)
: This is what Jimmyandfriends should have done for their previews of 
Character Story 2 2009 DVD
 and here's the order it goes in: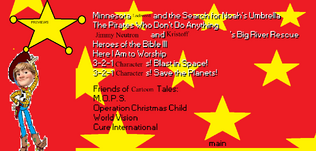 CartoonTales: Here I Am to Worship trailer
3-2-1 Characters!: Blast in Space! trailer
3-2-1 Characters!: Save the Planets! trailer
Friends of CartoonTales:

M.O.P.S. (Mothers of Preschoolers)
Operation Christmas Child
World Vision
CURE International
Ad blocker interference detected!
Wikia is a free-to-use site that makes money from advertising. We have a modified experience for viewers using ad blockers

Wikia is not accessible if you've made further modifications. Remove the custom ad blocker rule(s) and the page will load as expected.