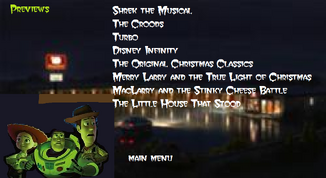 Sneak Peeks from Toy Story of Terror! 2013 DVD (Classic Media)
is a fan-fic thing to do.
This is what DreamWorks Classics should have done for the Halloween special, Toy Story of Terror! and here's the order:
Shrek the Musical trailer
The Croods trailer
Turbo trailer
Disney Infinity trailer
The Original Christmas Classics trailer
VeggieTales: Merry Larry and the True Light of Christmas trailer
VeggieTales: MacLarry and the Stinky Cheese Battle trailer
VeggieTales: The Little House That Stood trailer
Ad blocker interference detected!
Wikia is a free-to-use site that makes money from advertising. We have a modified experience for viewers using ad blockers

Wikia is not accessible if you've made further modifications. Remove the custom ad blocker rule(s) and the page will load as expected.