Sofia and Lucy at Wikia
---
[
]
Welcome to the Sofia and Lucy mini wiki at Scratchpad!
You can use the box below to create new pages for this mini-wiki.
Sofia and Lucy is an adult animated horror genre youtube series. The show follows an eighteen year old girl with an adopted witch sister named Lucy. In most episodes they are in some kind of gory Halloween mess, such as their mother being an evil murderer or getting into trouble with evil people or monsters.
Villains:
. Lucy's Nightmare Creatures
. The Huggy Hack Bear
. Sofia's Evil Ego
. Murderer From Africa
. Lucy's Evil Twin
. Bimble
. Johnny Wilson
. Fake Hollow Man
. Mr Perkins
. Handybuddy
Sofia And Lucy is recommended for Halloween night.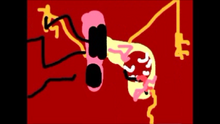 Ad blocker interference detected!
Wikia is a free-to-use site that makes money from advertising. We have a modified experience for viewers using ad blockers

Wikia is not accessible if you've made further modifications. Remove the custom ad blocker rule(s) and the page will load as expected.