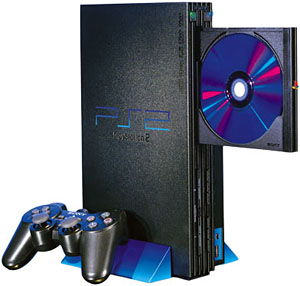 Release date: 2000
Controllers: 8-way d-pad, 10 buttons + Start + Select, two analog sticks
CPU: Emotion Engine
Speed: 294 MHz
Co-Processor: MIPS R5900 (CPU), FPU, 150MHz VU0 & VU1, 147MHz GPU, 33.8688MHz MIPS R3000A
RAM: 32MB RDRAM
VRAM: 4MB DRAM
ROM: 4MB
Graphic modes: 256x224 to 1280x1024
Colors: 16.7 million
Sound: 8 MHz SPU1, SPU2, 48 channels, Dolby Digital 5.1 and Dolby Prologic II capable
Media: CD-ROM/DVD-ROM
Ad blocker interference detected!
Wikia is a free-to-use site that makes money from advertising. We have a modified experience for viewers using ad blockers

Wikia is not accessible if you've made further modifications. Remove the custom ad blocker rule(s) and the page will load as expected.