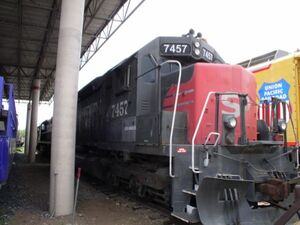 First model SD-45 freight locomotive built for the Southern Pacific Railroad in 1966. Originally numbered 8800, #7457 was the fIrst of 356 units delivered to SP, which had the largest fleet in the country. A V20 cylinder 645 diesel engine powered the SD-45 with 3600 horse power. It was used to pull freight from Ogden to the west coast over Donner Summit. It was acquired by the museum February 5, 2002.
Ad blocker interference detected!
Wikia is a free-to-use site that makes money from advertising. We have a modified experience for viewers using ad blockers

Wikia is not accessible if you've made further modifications. Remove the custom ad blocker rule(s) and the page will load as expected.