Ad blocker interference detected!
Wikia is a free-to-use site that makes money from advertising. We have a modified experience for viewers using ad blockers

Wikia is not accessible if you've made further modifications. Remove the custom ad blocker rule(s) and the page will load as expected.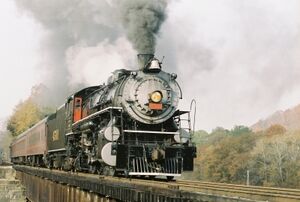 4501
was built by Baldwin Locomotive Works in 1911 for the Southern Railway, the 4501 was the first of its class on that railroad.  The wheel arrangement is a 2-8-2, known as a Mikado since the first of this type were sold to Japan.  4501 served the Southern until the 1940s when the railroad began buying diesel locomotives and phasing out steam operations.  The locomotive then saw service on a small coal-
hauling
railroad in Kentucky.  When the small Kentucky railroad put the 4501 up for sale for scrap value in the early 1960s, TVRM's first president, Paul Merriman, purchased the locomotive, brought it to Chattanooga and returned it to service.  Since the mid-1960s, 4501 has pulled countless passenger excursion trains across the Southern (later Norfolk Southern) Railway.  The 4501 ended its service in 1999 due to rising maintenance costs.  However, with the start of Norfolk Southern's "21st Century Steam" program, the 4501 will return to service.