Jimmyandfriends's movie-spoofs of "Space Jam"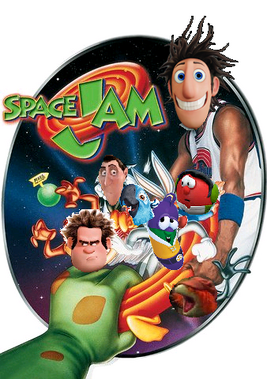 Cast:
Flint Lockwood (Cloudy with a Chance of Meatballs) as Michael Jordan
Larry the Cucumber (VeggieTales) as Bugs Bunny
Boober Fraggle (Fraggle Rock) as Daffy Duck
Bob the Tomato (VeggieTales) as Porky Pig
Petunia Rhurbarb (VeggieTales) as Lola Bunny
Dracula (Hotel Transylvania) as Sylvester
Blu (Rio) as Tweety Bird
Gru (Despicable Me) as Elmer Fudd
Wembley Fraggle (Fraggle Rock) as Road Runner
Junior Gorg (Fraggle Rock) as Wile E. Coyote
Rocky the Rhode Island Red (Chicken Run) as Foghorn Leghorn
Muriel Bagge (Courage the Cowardly Dog) as Granny
Wreck-It Ralph as Taz
Grug Crood (The Croods) as Yosemite Sam
Megamind as Marvin the Martian
E.B. (Hop) as Speedy Gonzales
Ad blocker interference detected!
Wikia is a free-to-use site that makes money from advertising. We have a modified experience for viewers using ad blockers

Wikia is not accessible if you've made further modifications. Remove the custom ad blocker rule(s) and the page will load as expected.