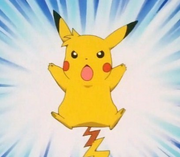 Sparky 
is a character from 
Pokemon
.  He is a Pikachu, and Ritchie's main Pokemon used in the anime. This Pikachu is special because he can surf.
Counterparts (Do not delete, but you can add)
Pikachu (Super Smash Bros.)
Road Runner (Looney Tunes)
Justin (Total Drama)
Carter (Teenage Mutant Ninja Turtles)
Ad blocker interference detected!
Wikia is a free-to-use site that makes money from advertising. We have a modified experience for viewers using ad blockers

Wikia is not accessible if you've made further modifications. Remove the custom ad blocker rule(s) and the page will load as expected.