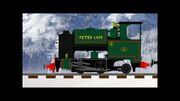 Special Funnel is the first episode of The Sodor Sprite Series.
Summary
It is wintertime and Peter Sam is still awaiting his new funnel, which, in his words, will be "something special". The other engines make fun of his talk about the new funnel. The weather soon becomes bad and there is a washout near the tunnel, so Rusty brings workmen to fix the bridge. As days go by, the weather changes and becomes frosty and cold. A few days later, the bridge is mended and Peter Sam is chuffing down the line with a passenger train. As he puffs through a tunnel, his cracked funnel is knocked off by an icicle in the tunnel and he has to use a discarded drainpipe for a funnel. Peter Sam's funnel eventually arrives and he discovers it makes his work easier. The engines do not make fun of Peter Sam's funnel anymore. They wish they had one like it.
Goofs
The Skarloey Railway shed is inaccurate.
Rusty moves off the screen in one scene.
Duncan's and Sir Handel's eyes are gray when they laugh at Peter Sam.
In the last shot, Peter Sam and his train are inches above the rails.
Episode
http://www.youtube.com/watch?v=SZ0A4Xxndd8
According to rumors, the next episode of the series will be Horrid Lorry.
Ad blocker interference detected!
Wikia is a free-to-use site that makes money from advertising. We have a modified experience for viewers using ad blockers

Wikia is not accessible if you've made further modifications. Remove the custom ad blocker rule(s) and the page will load as expected.