Spectra Vondergeist
 is a character from
Monster High
.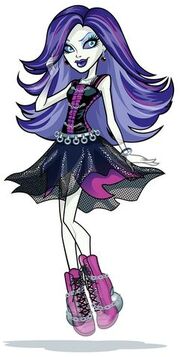 Counterparts
Sally Seaplane (TUGS/Salty's Lighthouse)
Rebecca (Theodore Tugboat)
Mavis (Thomas the Tank Engine and Friends)
Calley (Chuggington)
Tiny Kong (Donkey Kong Country)
Pam-I-Am (The Wubbulous World of Dr. Seuss)
Thundergirl (Kablam!/Action League Now!)
Honey or Sirica (Kirby)
Aipom or Dawn (Pokemon)
Uglette or Edith Up (Rayman)
Mrs. Puff (SpongeBob SquarePants)
Maisie (The Brave Little Toaster)
Macku (Bionicle)
Rhonda (Hey Arnold)
Princess Daisy (Super Mario Bros.)
Cosmo (Sonic the Hedgehog)
Arlene (Garfield)
Izzy (Total Drama)
Rainbow Dash (My Little Pony: Friendship is Magic)
Ad blocker interference detected!
Wikia is a free-to-use site that makes money from advertising. We have a modified experience for viewers using ad blockers

Wikia is not accessible if you've made further modifications. Remove the custom ad blocker rule(s) and the page will load as expected.