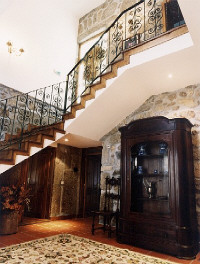 ---
Logo que se entra na mansão Sphinx, é possível se sentir em casa. Um armário de frente da porta, troféus dos alunos e ex-alunos podem ser encontrados ali. E um tapete macio, já que alguns alunos preferem ficar sem sapatos enquanto andam pela casa. Vasos de flores para perfumar o ambiente, alguns quadros de paisagens, portas que dão para todos os ambientes do primeiro andar, e uma linda escada que vai para os quartos dos alunos.
Página Inicial | Estrutura | Mansão Sphinx | Sphinx

Ad blocker interference detected!
Wikia is a free-to-use site that makes money from advertising. We have a modified experience for viewers using ad blockers

Wikia is not accessible if you've made further modifications. Remove the custom ad blocker rule(s) and the page will load as expected.