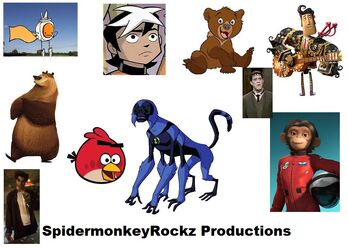 SpidermonkeyRockz
LIST OF MOVIES/TV SHOWS SO FAR:
101 Dalmatians
6Teen
Alice In Wonderland 1951
A Bug's Life
A.T.O.M. Alpha Teens On Machines
Adventure Time
Aladdin
Alienators: Evolution Continues
Aliens in the Attic
Archie's Weird Mysteries
Atom Ant
Bakugan: Battle Brawlers
Bakugan: Mechtanium Surge
Bambi 1&2
Beauty and the Beast
Ben 10 Ultimate Alien
Ben 10 Omniverse
Big Wolf on Campus
Brother Bear 2
Bump in the Night
Caillou
Cars 2
Caveman (1981)
Chop Socky Chooks
Charlie and the Chocolate Factory
Code Lyoko
Curious George
Cyberchase
Despicable Me
Dinosaur (2000)
Dinosaur King
DInosaur Island
Dinosaur Train
Disney Shorts
Dumbo
Ed Edd, Eddy
Fairly Odd Parents
Famous Fave on the Case
Fanboy and Chum Chum
Fantastic Mr. Fox
Finding Nemo
Flash Gordon
Flash Gordon's Trip to Mars
Follow That Bird
Gnomeo and Juliet
Gogs
Hello Kitty
He-Man
Hercules
Hey There, It's Yogi Bear!
Hokey Wolf
Home on the Range
Hop
Horton Hears a Who
How to Train Your Dragon
Howl's Moving Castle
Huckleberry Hound
Ice Age 3
Igor
John Carter (2012)
Johnny Test
King Kong (2005)
Kong: The Animated Series
Kung Fu Panda 2
Leroy & Stitch (2006)
Lilo & Stitch
Lilo & Stitch 2: Stitch Has a Glitch (2005)
Madagascar Series
Marmaduke (2010)
Martin Mystery
Meet The Robinsons
Megamind
Monsters Inc
Monsters Vs Aliens
Mr. Men
Mr. Men And Little Miss
My Neighbors the Yamadas
My Neighbor Totoro
Mummies Alive!
Mummy Nanny
Oliver & Company
Only Yesterday
Open Season 3
Ozzy and Drix
PB&J Otter
Peepa Pig
Pet Alien
Phineas and Ferb
Pinocchio
Pixie and Dixie
Pocahontas
Peter Pan 1953
Planet 51
Pokemon
Pom Poko
Ponyo
Princess Mononoke
Prince of Persia: The Sands of Time (2010)
Pucca
Quick Draw McGraw
Ratatouille (Pixar)
Regular Show
Reboot
Rio (2011)
Rock-A-Doodle
Robin Hood
Samurai Jack
Sesame Street
Shark Tale
Skunk Fu
Sleeping Beauty
Snow White and the Seven Dwarfs
South Park
SpongeBob SquarePants
Spooky Sisters (Shorts)
Static Shock
Stitch!
Stitch! The Movie
Tangled
Tarzan
Teen Titans
The Amazing World of Gumball
The Adventures of Elmo in Grouchland
The Addams Family
The Aristocats
The Avengers: Earth's Mightiest Heroes
The Black Cauldron
The Cave (2005)
The Cavern (2005)
The Chronicles of Narnia: The Lion, the Witch and the Wardrobe
The Croods
The Fox and the Hound
The Hunchback of Notre Dame
The Jungle Book
The Lion King
The Many Adventures of Winnie the Pooh
The Mr. Men Show
The New Addams Family
The Penguins of Madagascar
The Princess and the Frog
The Rescuers
The Secret Satudays
The Simpsons
The Super Hero Squad Show
The Sword in The Stone
Tom And Jerry
Total Drama Series
Toy Story
Toy Story 2
Toy Story 3
Up
WALL-E
Wally Gator
Who Framed Roger Rabbit
Winnie the Pooh
Wolverine and the X-Men
World of Quest
X-Men
X-Men: Evolution
Xiaolin Showdown
Yam Roll
Yin, Yang Yo
Yo Yogi
Yogi Bear
Zixx: Level One
Zoom (2006)
A LIST OF PARODIES
MY FAVORITE CHARACTERS:
Spidermonkey, Humungousaur, Wildmutt, Ben Tennyson and Echo Echo (Ben 10 Alien Force and Ultimate Alien)
Gabby and Dinko (Pet Alien)
Lilo and Stitch
Koda (Brother Bear)
Ham III and Luna (Space Chimps) (Spidermonkey's Girlfriend)
Ira Kane, Harry Block, Wayne Green, Lt. Lucy Mai (Alienators: Evolution Continues)
Archie Andrews, Betty Cooper, Veronica Lodge, Jughead Jones Dilton Doiley, And Reggie Mantle (Archie's Weird Mysteries)
Yam Roll
Yogi Bear and Boo Boo (Yogi Bear)
Tommy Dawkins (Big Wolf on Campus)
Lurch (The Addams Family)
Wolverine (X-Men Evolution)
John Carter
Grug (The Croods)
Boog and Elliot (Open Season)
Ant-Man and Wasp (The Avengers: Earth's Mightiest Heroes)
Eric Cartman, Kyle Broflovski, Stan Marsh, Kenny McCormick and Chef (South Park)
The Missing Link, Dr. Cockroach and B.O.B. (Monsters Vs Aliens)
Hippety Hopper (Spidermonkey's Pet)
Ad blocker interference detected!
Wikia is a free-to-use site that makes money from advertising. We have a modified experience for viewers using ad blockers

Wikia is not accessible if you've made further modifications. Remove the custom ad blocker rule(s) and the page will load as expected.