Spidey
Spidey
Herkunft
Arakna
Rasse
Arakna-jin
Geburtsdatum
?
Alter
?
Familie
nicht bekannt
Haarfarbe
Unbekannt
Augenfarbe
Unbekannt
Größe
172cm
Gewicht
70kg
Waffe
Spinnenfäden
Techniken
?
Geschichte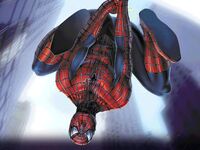 Eine Mission führte
Kakashi
nach
Araknia
, nachdem er seinen Auftrag dort
beendet hatte, ließ die Königin von Araknia nach Kakashi rufen. Sie bat ihn Spidey auszubilden, da er gerne andere Welten kennen lernen wollte, zudem erhoffte sich die Königin durch Spidey vielleicht auch Verhandlungen mit anderen Völkern zu ermöglichen
Charakter
Spidey ist locker und immer gut drauf, er hat einen stark ausgeprägten Wissensdurst, doch sobald irgendjemand sein Volk oder die Königin beleidigt, kann er ziemlich sauer werden. Da Arakner sehr loyal sind und ihre Königin verehren.
Kampfstil
Ninjutsu
Ad blocker interference detected!
Wikia is a free-to-use site that makes money from advertising. We have a modified experience for viewers using ad blockers

Wikia is not accessible if you've made further modifications. Remove the custom ad blocker rule(s) and the page will load as expected.