"Whenever that owl hoots, a mist rolls in. And there's a legend that when the mist's about, and there's a ghost about, too. Take care on the old line, Henry!"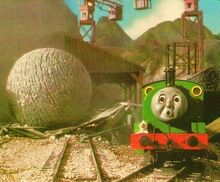 - Edward.
Spills, Thrills and Chills is the fifth book of the Railway Series Continues series, but this book is more darker and more dramatic than previous or succeeding books life season five from the television Thomas series was like intense crashes, explosions, accidents and dramatic disasters in this book.
Previous Book: Races, Rescues and Runaways (February 19th, 2015)
Next Book: Nothing to Worry (March 5th, 2015)
Message
Dear Friends,
This is a book about how things happen, there is "Daily Life" on The Island of Sodor, and everything is magic to discover the true ways of positive thinking and many more, but now. This is a dark Railway Series book the Railway Series has ever seen, we will meet Thumper and Bertram in the Railway Series and we are seeing Toby being brave about a ghost engine about it haunt him, and next we come to see Rusty see a boulder up at the quarry and when danger lurks for the boulder, it will come here and chase engines around the yard and cause destruction to make damage but heads out to be the biggest crash you will ever see for the first time, and we hear that Rusty told Duncan an engine who hadn't returned home when he fell off the bridge, but we will see Duncan, and anyways, we see Henry get spooked on the Main Line, and thanks for the message and i hope it wasn't too long and God Bless our railway for having thrills and chills.
This is Your Friend,
The Author.
Stories
A new quarry was being built on the mines when a boulder is dislodged to date when Rusty confesses his fears to Thomas and Percy, and Edward arrived with Thumper, Thumper was new and he came to Sodor and he was asked to be helping to make process with the mining construction, One rainy day, Rusty was gazing up a huge boulder and a rock fell and Rusty almost jumped right off the rails when he was shocked, but the next day when it was sunny again, but Thumper was still working harder than ever, and Rusty arrived and then he realized he saw the boulder move, but his driver disagreed, "it can't" he said, but he was wrong it can move, and chaos was everywhere, and Percy was at the yards with some trucks and the boulder was heading for the sheds, Boulder tried to stop but he crashed and stopped too quickly, it caused a fiery explosion, The Fat Controller arrived on Thomas next day, The Fat Controller closed down the mine and the crew put the boulder close by the shut down yards, and Thumper was blamed for making the boulder cause chaos and he ended up being sent away, forever, and everyone was glad, Thumper was gone, and Thumper was no longer wanted here on Sodor, ever again.
Toby is spooked when he stumbles across a disused quarry. Thomas' tale of "The Old Warrior" ghost does not help one bit, but Toby the Tram Engine now finds out who was the "Old Warrior", it was Bertram, Bertram was given a nickname due to his courageousness.
Duncan jokes Peter Sam's lost trucks will haunt him, so Rusty tells him a ghost story who derailed, but Duncan didn't think it was true until his driver and fireman played a trick on him.
Henry refuses to believe in ghosts until he and his driver see a series of strange events when he shunts a goods train during the night time.
Characters
Thomas
Edward
Henry
Percy
Toby
Skarloey
Rheneas
Rusty
Duncan
Stephen Hatt
Bridget Hatt
Lady Hatt
The Fat Controller
Trucks
James (cameo)
Gordon (does not speak)
Perter Sam (does not speak)
George (cameo)
Terence (cameo)
The Spiteful Brakevan (not named)
Characters introduced
Thumper
Bertram
Old Bailey
Boulder (does not speak)
Trivia
This book has intense stories to make it look darker and dramatic than previous or more books of the Railway Series that had contained the most accidents, crashes, explosions and disasters in every story of this book.
This is the first book to use crash sound effects from the Britt Allcroft era.
This is the only appearance of Bertram and Thumper to date.
One of Rheneas' drivers resembles as Alec Baldwin in this book.
This is the first and the only book to feature an explosion in the book.
This Railway Series book is somehow feature scary stories into this book.
This book is based on Duncan Gets Spooked, Rusty and the Boulder, Toby's Discovery and Haunted Henry.
Goofs
The Spiteful Brakevan is not named.
How can there be a huge object be named: "Boulder"?
Henry's lamp is missing throughtout the entire book.
Ad blocker interference detected!
Wikia is a free-to-use site that makes money from advertising. We have a modified experience for viewers using ad blockers

Wikia is not accessible if you've made further modifications. Remove the custom ad blocker rule(s) and the page will load as expected.