SpongeBob SquarePants at Wikia
---
[
]
Welcome to the SpongeBob SquarePants mini wiki at Scratchpad!
You can use the box below to create new pages for this mini-wiki.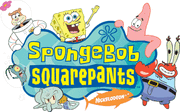 SpongeBob SquarePants
is a media franschise animated series. The series comes on the channel of Nickelodeon, if you haver Charter in West Virginia, channel 53. The series was started on May 1, 1999. The animator is Stephen Hillenburg. SpongeBob is most seen abbreviated as
SB
, and is used a lot.
Popularity
SpongeBob is a world-wide show. It is very popular, though, with the exception of people not liking the way they built their TV movies (not long enough).
Characters

Main article:
SpongeBob SquarePants/Characters/Gallery
Krusty Krab
The Krusty Krab is a restaurant in Bikini Bottom across from the Chum Bucket. The restaurant is owned by Eugine Krabs, wants to be overthrown by Plankton. Their main food is a Krabby Patty. The work hats are tall hats with anchors on them. Toilets are in the back of the restaurant. Was once turned into a hotel called the Krusty Towers, and then at the ending of the episode, Mr. Krabs says "Pack your bags boys, your going to medical school.", probably meaning it was then turned into a hospital, being a backfired plan like the hotel plan.
Episodes
Parodies

 WARNING: You may add parodies. But, do NOT delete any. Complete parodies list
See also