Ad blocker interference detected!
Wikia is a free-to-use site that makes money from advertising. We have a modified experience for viewers using ad blockers

Wikia is not accessible if you've made further modifications. Remove the custom ad blocker rule(s) and the page will load as expected.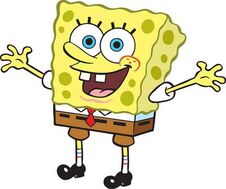 SpongeBob SquarePants
is a titular protagonist of the American television series
of the same name
. He has been voiced by
Tom Kenny
. He is a happy, goofy, anthropomorphic sea sponge who lives in Bikini Bottom inside a pineapple.
Bio
Species: Sea sponge
Skin Color: Yellow
Clothing: White shirt, red tie, brown pants, white socks with blue and red stripes, black shoes
Allies: Patrick (best friend), Squidward (neighbor, sometimes), Gary (pet), Sandy (girlfriend), Mr. Krabs, Pearl, Mrs. Puff, Larry the Lobster, Harold and Margaret (parents), Stanley (cousin)
Enemies: Sheldon J. Plankton, Patrick (briefly), Karen, Flats the Flounder, Dennis
Likes: Live in his house, his relatives, Krabby Patty burgers, Squidward annoying him
Dislikes: His cousin BlackJack, saw Plankton steals Krabby Patty formula
Counterparts (boy version)

 WARNING: You may add appropriate counterparts. But, do NOT delete any.
Mario, Yoshi, or Luigi (Super Mario Bros.)
Bowser, Bowser Junior, Or Mario (SuperMarioLogan)
Stan Smith (American Dad)
Toaster, Lampy, or Kirby (The Brave Little Toaster)
Doug Funnie (Doug)
Sooty (The Sooty Show)
Littlefoot (The Land Before Time)
Austin Powers (Austin Powers)
Captain Crandell (Teamo Supremo)
Crash Bandicoot (Crash Bandicoot)
Raimundo Pedrosa (Xiaolin Showdown)
TJ (Recess)
Danny Fenton (Danny Phantom)
Dudley Puppy (T.U.F.F. Puppy)
Adult Simba or Young Simba (The Lion King)
Gordy Rhinehart (Angela Anaconda)
Marlin or Nemo (Finding Nemo)
Connor (Cubix: Robots For Everyone)
Bambi (Bambi)
Bhairon Singh (PeeKay (2014))
P.J. Duncan (Good Luck Charlie)
Big Bird, Ernie, Elmo, or Grover (Sesame Street)
Starfy (The Legendary Starfy)
Fanboy (Fanboy and Chum Chum)
Numbuh 1 (Codename: Kids Next Door)
Noddy (Noddy's Toyland Adventures)
Spike (My Little Pony: Friendship is Magic)
Pinocchio (Pinocchio and the Emperor of the Night)
Stanley (A Troll in Central Park)
Casey Jr. (Casey Air. and Friends)
Hobbes (Calvin & Hobbes)
Jiminy Cricket, Pinocchio or Geppetto (Pinocchio)
Jowee (Drawn to Life)
Dorian (Eco Creatures: Save the Forest)
Marty McFly (Back to the Future)
Kevin McCallister (Home Alone)
Olimar (Pikmin)
Chowder (Chowder)
Stitch (Lilo & Stitch)
Takua (Bionicle)
Luke Skywalker (Star Wars)
Scarecrow (The Wizard of Oz)
Bob Parr or Dash Parr (The Incredibles)
Barry B. Benson (Bee Movie)
RJ (Over the Hedge)
Jack Frost (Rise of the Guardians (2012))
Hocus or Frosty (Frosty the Snowman)
Chase Matthews (Zoey 101)
Josh (Drake & Josh)
Agumon (Digimon)
Finn the Human (Adventure Time)
Eddy or Edd (Ed, Edd 'n' Eddy)
Matt or Jules (Cyberchase)
Ord (Dragon Tales)
Mike Wazowski (Monsters Inc./Monsters University)
Rocko (Rocko's Mordern Life)
Cat (CatDog)
Greg Heffley (Diary of a Wimpy Kid)
Flapjack (The Marvelous Misadventures of Flapjack)
Roger Rabbit (Who Framed Roger Rabbit) (both characters act the same)
Toxie (Toxic Avenger)
Willy the Bee (Maya the Bee/Movie, both are yellow and funny)
Counterparts (girl version)

 WARNING: You may add appropriate counterparts. But, do NOT delete any.
 Emily, Molly, Belle, Lady or Rosie (Thomas the Tank Engine and Friends)
 Lillie Lightship (TUGS)
Sunshine (Salty's Lighthouse)
Amy Rose, Sally Acorn or Cream the Rabbit (Sonic the Hedgehog)
Princess Peach or Birdo or Toadette (Super Mario Bros.)
Buneary or Elesa (Pokemon)
Tiff or Ribbon (Kirby)
Lanolin or Penilupe (Garfield and Friends)
Ducky (The Land Before Time)
Gosalyn Mallard (Darkwing Duck)
Babs Bunny or Tweety (Tiny Toon Adventures)
Molly Cunningham (Talespin)
Kiki (Clifford the Big Red Dog)
Mindy (Animaniacs)
Dot (A Bug's Life)
Penny Ling (Littlest Pet Shop)
Lola Bunny (Looney Tunes)
Pistol Pete (Goof Troop)
Isabella Garcia Shapiro, Suzy Johnson or Melissa (Phineas and Ferb)
Penny Fitzgerald, Rachel, or Anais Watterson (The Amazing World of Gumball)
Gatomon (Digimon)
Ella (Total Drama)
Margaret (Regular Show) 
Celia Mae or Boo (Monsters Inc.) 
Agnes (Despicable Me) 
Kimi Finster (Rugrats) 
Princess Bubblegum (Adventure Time)
Zoey Brooks (Zoey 101)
April O' Neil (Teenage Mutant Ninja Turtles)
Emmy (Dragon Tales)
Susanna (Kong: The Animated Series)
Flaky (Happy Tree Friends)
Kerry (My Gym Partner's a Monkey)
Zero Suit Samus (Metroid)
Rarity (Cheese Sandwich)
Gallery

Main article:
SpongeBob SquarePants (character)/Gallery
See also