Ad blocker interference detected!
Wikia is a free-to-use site that makes money from advertising. We have a modified experience for viewers using ad blockers

Wikia is not accessible if you've made further modifications. Remove the custom ad blocker rule(s) and the page will load as expected.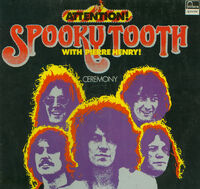 Артист       Spooky Tooth with Pierre Henry
 Название     Ceremony
 Тип          альбом
 Выпущен      1970
 Жанр         прогрессивный рок, хард-рок
 Длительность 
 Лейбл        Island, Fontana
 Страна       Англия

треклист
A1. Have Mercy - 7:53
A2. Jubilation - 8:25	
A3. Confession - 6:48
B1. Prayer - 10:50	
B2. Offering - 3:26	
B3. Hosanna  - 7:35

состав
Gary Wright - клавишные
Mike Harrison - клавишные, вокал
Luther Grosvenor - гитара
Greg Ridley - бас-гитара
Mike Kellie - ударные
+ Pierre Henry - ?

издания
ссылки