Spartacus is a lazytown character.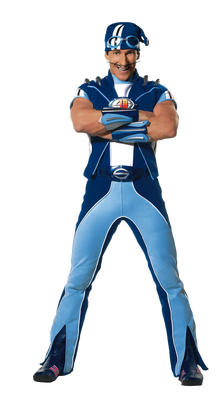 Counterparts
Thomas (Thomas the Tank Engine & Friends)
Ten Cents (TUGS/Salty's Lighthouse)
Wilson (Chuggington)
RS Mr. Conductor (Shining Time Station)
Rayman (Rayman)
The Cat in the Hat (Dr. Seuss)
Mario (Super Mario Bros)
Sonic the Hedgehog (Sonic the Hedgehog)
Orson (Garfield & Friends)
SpongeBob SquarePants (SpongeBob SquarePants)
Tommy Pickles (Rugrats)
Perfect Peter (Horrid Henry)
Arthur Read (Arthur)
Stan Marsh (South Park)
Big Bird, Elmo, or Ernie (Sesame Street)
Homer Simpson or Bart Simpson (The Simpsons)
Peter Griffin, Chris Griffin, or Brian Griffin (Family Guy)
Fox McCloud (Star Fox)
Toaster (The Brave Little Toaster)
Winnie the Pooh (Winnie the Pooh)
Mickey Mouse (Mickey Mouse)
DJ (Total Drama)
Kirby (Kirby)
Bowser Junior or Toad (SML)
Wubbzy or Walden (Wow Wow Wubbzy)
Pikachu or Ash Ketchum (Pokemon)
Guan Yu (Dynasty Warriors)
Big Chad (Coilbook)
Stanley (A Troll in Central Park)
Adult Simba or Young Simba (The Lion King)
Rodney (Total Drama)
Baloo (The Jungle Book)
Milo (Fish Hooks)
Ad blocker interference detected!
Wikia is a free-to-use site that makes money from advertising. We have a modified experience for viewers using ad blockers

Wikia is not accessible if you've made further modifications. Remove the custom ad blocker rule(s) and the page will load as expected.