The Squirrel Youth Liberation Army serves no real military function in Mateosia. Rather it is highly effective at indoctrinating young Mateosians into Communist doctrine and staunch Mateosian Nationalism. There is no available information about size or organization of the SYLA (2007).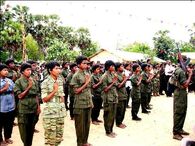 Ad blocker interference detected!
Wikia is a free-to-use site that makes money from advertising. We have a modified experience for viewers using ad blockers

Wikia is not accessible if you've made further modifications. Remove the custom ad blocker rule(s) and the page will load as expected.