LIST OF MOVIES/TV SHOWS/VIDEOGAMES I HAVE SO FAR: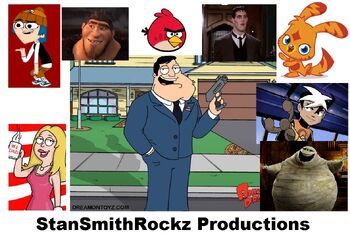 Adventure Time
Alienators: Evolution Continues
American Dad
Angry Birds
Ben 10
Ben 10 Alien Force
Ben 10 Ultimate Alien
Big Wolf On Campus
Bin Weevils
Dr. Zitbag's Transylvania Pet Shop
Grojband
Hotel Translyvania
John Carter (2012)
Moshi Monsters
Minions
Popeye
Ozzy and Drix
Packages From Planet X
Pet Alien
The Avengers Earth's Mightiest Heroes
The Addams Family
The Book of Life (2014)
The Croods
The Mummy The Animated Series
The Secret Saturdays
WALL-E

A LIST OF PARODIES:

MY FAVORITE CHARACTERS:
Stan Smith and Francine (American Dad)
Corey Riffin (Grojband)
John Carter (John Carter 2012)
Grug and Guy (The Croods)
Murray the Mummy (Hotel Transylvania)
Dr. Zitbag (Dr. Zitbag's Transylvania Pet Shop)
Tommy Dawkins (Big Wolf on Campus)
Zak Saturday (The Secret Saturdays)
Lurch and Pugsley (The Addams Family)
Red Bird (Angry Birds)
Katsuma (Moshi Monsters)
Humungousaur and Ultimate Humungousaur (Ben 10 Alien Force and Ultimate Alien)
Ad blocker interference detected!
Wikia is a free-to-use site that makes money from advertising. We have a modified experience for viewers using ad blockers

Wikia is not accessible if you've made further modifications. Remove the custom ad blocker rule(s) and the page will load as expected.