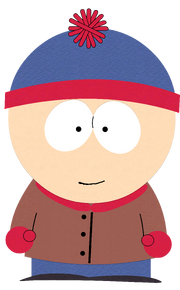 Stan Marsh is a fictional character from the animated television series South Park. He's one of the four main characters along with Kyle Broflovski, Eric Cartman, and Kenny McCormick. He has a girlfriend called Wendy Testaburger and a sister called Shelly Marsh. Stan is a very honest and caring 8-year-old.  
Counterparts (Heroes Version)
Thomas, Diesel or Gordon (Thomas the Tank Engine and Friends)
Mario, Yoshi or Luigi (Super Mario Bros.)
Sonic the Hedgehog or Knuckles the Echidna (Sonic the Hedgehog)
SpongeBob SquarePants, Squidward Tentacles, or Mr. Krabs (Spongebob Squarepants)
Buster Bunny (Tiny Toon Adventures)
Mickey Mouse, Goofy, or Donald Duck (Mickey Mouse)
Winnie the Pooh or Tigger (Winnie the Pooh)
Yakko Warner (Animaniacs)
Orson Pig (Garfield and Friends)
Pikachu or Buizel (Pokemon)
Kirby or Knuckle Joe (Kirby)
Sportacus (Lazytown)
Wubbzy or Walden (Wow Wow Wubbzy)
Bowser Junior, Chef Pee Pee, Bowser, or Joseph (SuperMarioLogan)
Jimmy Neutron (Jimmy Neutron)
Timmy Turner (Fairly OddParents)
Fanboy, Chum Chum, Oz, Michael Johnson, Duke, Kyle Bloodworth-Thomason or Sigmund The Sorcerer (Fanboy and Chum Chum)
Eddy, Edd, or Ed (Ed, Edd, n Eddy)
tatsumi (akame ga kill)
Edd (Eddsworld)
P.C. Popple, Puzzle Popple, or Billy Wagner (Popples)
Izzy (Popples (Netflix))
Bumblelion or Eleroo (The Wuzzles)
Montgomery "Good News" Moose (The Get Along Gang)
Tenderheart Bear or Loyal Heart Dog (Care Bears)
Jingaroo (Jingaroo)
Rick Raccoon or Tyg Tiger (Shirt Tales)
Rusty Wildwood or Preston Evergreen (1987 Sylvanian Families)
Counterparts (Villains Version)
Child Balthazar Bratt (Despicable Me 3) (Both have Black Hair and Both Voiced By Trey Parker)
Ad blocker interference detected!
Wikia is a free-to-use site that makes money from advertising. We have a modified experience for viewers using ad blockers

Wikia is not accessible if you've made further modifications. Remove the custom ad blocker rule(s) and the page will load as expected.