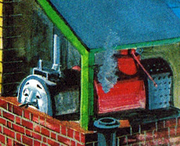 Stanley/No. 2
is a character in
The Railway Series
.
Counterparts (Thomas/The Railway Series Version)
Counterparts (Skarloey/Mid Sodor Version)
Smudger (Thomas the Tank Engine and Friends)
Johnny Cuba or Smelter (TUGS)
Cabot (Theodore Tugboat)
Bowser or Smithy (Super Mario Bros.)
Gerald Robotnik, Dr. Robotnik, or Pachacamac (Sonic the Hedgehog)
The Wolf or Robo-Pig (Garfield and Friends)
The Hooded Claw (The Perils of Penelope Pitstop)
Dr. Gene Splicer (Tiny Toon Adventures)
Vlad Vladikoff (Dr. Seuss)
Dennis (SpongeBob SquarePants)
Snake Jailbird or Sideshow Bob (The Simpsons)
Death (Family Guy)
King Candy as a Cybug (Wreck-It Ralph)
Emperor Devligus Devotindos (Rocket Knight Adventures)
Professor Z (Cars 2)
Conrad Cat (Skipper & Skeeto)
Huxley (Sesame Street)
Yami (Theodore Tugboat)
Jinpachi Mishima (Tekken)
Ad blocker interference detected!
Wikia is a free-to-use site that makes money from advertising. We have a modified experience for viewers using ad blockers

Wikia is not accessible if you've made further modifications. Remove the custom ad blocker rule(s) and the page will load as expected.