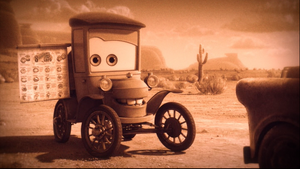 Stanley
(1909-1969) was one of the founders of Radiator Springs. He married Lizzie some years after 1927.
Bio
Died: December 1, 1969 (aged 60)
Allies: Lizzie (wife), Doc Hudson, Mater, Sheriff, Red, Luigi, Guido, Fillmore, Sarge Flo Ramone
Fate: Dies around the 1960's
Stanley was built in 1909 and became one of the founders of Radiator Springs, in 1927, he met Lizzie, the love of his life and they married eventually and remained happily together
Around 1969, Stanley died presumably peacefully at the age of 60. A memorial statue of him can be seen in the heart of Radiator Springs.
Counterparts
Gallery
Ad blocker interference detected!
Wikia is a free-to-use site that makes money from advertising. We have a modified experience for viewers using ad blockers

Wikia is not accessible if you've made further modifications. Remove the custom ad blocker rule(s) and the page will load as expected.