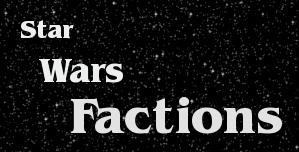 |Star Wars Factions official logo.
---
Forum Link
---
What is Star Wars Factions?
Star Wars Factions is a RP forum that includes the Empire,Rebellion,Sith,and Jedi.The Sith and Jedi are limited, the rule of two for the Sith is in play leaving only the Dark Lord and his Apprentice. The Jedi however can grow to any number but are still very few. We want it to be based on the Rebels and Imperials manily. So the force users are reserved for site vetrans only.
---
The Factions
Sith
Dark Lord of the Sith/Administrator- Lord Potentia
Lord of the Sith/Moderator-
Sith Apprentice/Moderator- Rei Ving
Sith Assassin-CLASSIFIED INFORMATION
---
Empire
---
Jedi
---
Rebellion
---
Bounty Hunter