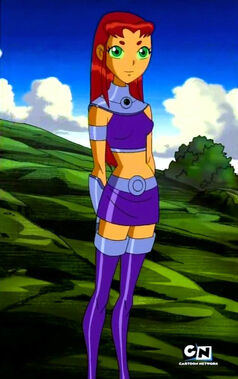 Starfire is the character of the TV series, Teen Titans Go!
Counterparts
Emily (Thomas)
Lillie Lightship (TUGS)
Fluttershy (My Little Pony)
Lisa or Marge (The Simpsons)
Kanga (Winnie the Pooh)
Nazz (Ed, Edd n Eddy)
Wendy (Peter Pan)
Susan Test (Johnny Test)
Amy Rose or Cosmo (Sonic)
Ariel (The Little Mermaid)
Nala or Kiara (The Lion King)
Jessie or Bo Peep (Toy Story)
Inez (Cyberchase)
Tillie (The Little Engine That Could)
Alice (Alice in Wonderland)
Lanolin (Garfield)
Sandy Cheeks (Spongebob)
Lola Bunny (Looney Tunes)
Minnie Mouse (Mickey Mouse)
Candace Flynn or Stacy Hirano (Phineas and Ferb)
Laura (VeggieTales)
Freida (Carrie)
Kimi (Rugrats)
Numbuh 3 (Codename: Kids Next Door)
Gallery
Ad blocker interference detected!
Wikia is a free-to-use site that makes money from advertising. We have a modified experience for viewers using ad blockers

Wikia is not accessible if you've made further modifications. Remove the custom ad blocker rule(s) and the page will load as expected.