Starfleet Intelligence: Section 31 (RPG) at Wikia
---
[
]
Welcome to the Starfleet Intelligence: Section 31 (RPG) mini wiki at Scratchpad!
You can use the box below to create new pages for this mini-wiki. Make sure you type [[Category:Starfleet Intelligence: Section 31 (RPG)]] on the page before you save it to make it part of the Starfleet Intelligence: Section 31 (RPG) wiki (preload can be enabled to automate this task, by clicking this link and saving that page. Afterwards, you may need to purge this page, if you still see this message).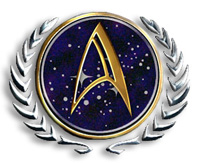 Introduction
Starfleet Intelligence: Section 31 is an officially nonexistent and uncondoned rogue agency within Starfleet Intelligence that works to protect the security interests of the United Federation of Planets. Section 31 takes its name from Article 14, Section 31 of the Earth Starfleet Charter, which allowed certain rules of conduct to be "bent" during times of extraordinary threat. To those outside of Section 31, we are just another Federation starship exploring the galaxy. However, unlike other starships, we answer to no one but the Section. The USS Fearless is the flagship of the newly established Section 31 Fleet.