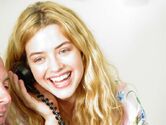 Steffany Huckaby es una joven actriz estadounidense. Tiene una corta trayectoria, pero en sus últimas películas (Death tunnel y Disconnect) tuvo el papel protagónico.
Desde el 2005 que no tiene nuevos proyectos masivos en cine.
Fimografía en cine
Death Tunnel (2005) .... Heather
Disconnect (2005) .... Haley Simmons
The Pleasure Drivers (2005) .... Casey
Guy in Row Five (2005) .... Kate
Starkweather (2004) .... Carol
Scarecrow Gone Wild (2004) (V) .... Girl in Opening
"The O.C." .... April (1 episode, 2004)

The L.A. (2004) TV Episode .... April

Career Suicide (2004) .... New Girl
Filmografía en Foronovelas
Steffany Huckaby ha participado en las siguientes Foronovelas
Ad blocker interference detected!
Wikia is a free-to-use site that makes money from advertising. We have a modified experience for viewers using ad blockers

Wikia is not accessible if you've made further modifications. Remove the custom ad blocker rule(s) and the page will load as expected.