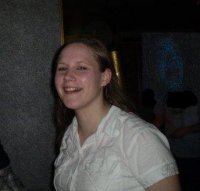 Steph Colledge one of the forms of the Sixth River however this one was not human but from a alien planet called Hatlinks who could change her DNA when near death there number of times this can be done should be 8 because she is a Half Hatlink
1967
Steph Colledge was born she lived on Hatlinks in Rocklyn to the age of 15 when she wanted to go back to earth. She left Hatlinks with her childhood mate Harriet Sernet
They went all across the world and tried to find the Rivers after there death in the year of 1967 she never did manage to find them until the year 1981 where she found the Rivers once again they were all living in Melbourne She didnt stay very long and wanted to show Harriet Sernet the rest of earth. She came back when it was time to face off with the Mels Boys sadly this was also when Jessie Daniels died from the fight Steph Colledge felt like it was her fault and kept with Harriet Sernet.
1987
Steph Colledge and Harriet Sernet landed near Area 51 when there they found that agents wanted to capture them they ended up being shot. This made Steph Colledge have to change form in order to live. Harriet Sernet had to do the same thing as well. She then did something to Steph Colledge and left her back on Earth where she was really weak from her form change. She was found by Jane Wills who helped Steph get back her power to the time when she could go on. Jane Wills came close to Steph Colledge to the day she took off again now lost on her own.
1988
Steph Colledge went to start a new life in New York she found a man and had fallen in love with him his name was Dale Palmer they had a child together and were going to get married but he found out that Steph Colledge was a alien and wanted nothing more to do with her.
1991
Steph Colledge headed on to find somewhere else to live she came back to the uk and lived in London where she spent most of her years working for a group whos job it was to protect people from the likes of nasty aliens it was called Area 3 It had nothing to do with Area 51. Over the years Steph College trained with them and she left after some years later to plan what she could do with her life and hopefully find the Rivers who could be anywhere.
2004
Steph Colledge came to Torquay in devon where she wanted to change her life around and started college. There she found out about another alien race called Mooes who had a spaceship which she could use to go back home to Hatlinks. But the plan was stopped by two males called Scott Curtis and Jamie Jackson she then found out they was the people who she been looking for they were Emma Smith and Laura Bond in the next forms however this time they were male. Steph Colledge stop her plans and went off with the them to try and find something to do in life.
2005
Steph used her skills to fight evil once again this time in the shape of a pevert who was trying to make a girl calledBecky Miles fall in love with hkm and had plans to kidnap her. Scott Curtis and Steph Colledge worked together to stop Nick Green and one of Scott Curtis rivals who was a mate called Emma Davison Together they beat them and didnt know that Area 51 had been watching them they manage to escape them.
2007
Steph Colledge had now found all the Rivers again apart from [Jane Fairbanks]] As for the other two being Claire Barnett and Jessie Daniels they were now also in two new forms which were now Zoe O'Chapel and Primrose Windsor that year also Harriet Sernet came back looking for blood in the town of Totnes Harriet took Primrose Windsor hostage and wanted to kill her unless Steph came to her.

Area 51 had came back to catch Steph Coledge and Harriet Sernet they had a fight and it almost cost the lifes of both Scott Curtis and Primrose Windsor. Steph Colledge had to share her DNA in order to make Scott live. Right afterwards she ran to catch Harriet Sernet and it ended up with a big fight. Harriet was stronger than Steph Colledge and made Steph Colledge get knocked down by a car this started Steph Colledge III she did however manage to get back her ufo and once better she started to travel again.
2008
Harriet Sernet came back to Steph Colledge wanting to change her life around knowing if she went back to Hatlinks she might be killed Steph Colledge took Harriet Sernet under her wing and looked after her later on in that year she found out some old things from her past had came back from when she was in area 3. She heard reports of a human ranch which was breeding clones in Teignmouth.
Ad blocker interference detected!
Wikia is a free-to-use site that makes money from advertising. We have a modified experience for viewers using ad blockers

Wikia is not accessible if you've made further modifications. Remove the custom ad blocker rule(s) and the page will load as expected.