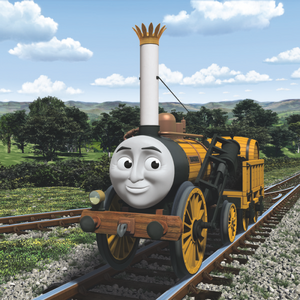 Stephen
, nicknamed "The Rocket", is a steam engine and one of the two main tritagonists of King of the Railway (the other being
James the Red Engine
)
Bio
Stephen is one of the earliest engines ever built. Newer engines may be faster and stronger than Stephen, but what he lacks in terms of strength or speed, he makes up for with his positive spirit, sense of humour, and knowledge. His speed is around 27-28. He used to work at docks and in mines, but now works as a tour-guide at Ulfstead Castle. He has his own coaches and was trapped in the Ulfstead Mine where he discovered King Godred's long lost crown in time for the opening of the castle In Diesels Ducks and Demons He is cameo.
Basis
Stephen is based on the Stephenson's Rocket.
Livery
Stephen is painted yellow and black. He bears a nameplate reading "Rocket".
Appearances
Major Appearances
Specials
Season 17
The Lost Puff
The Phantom Express
Percy's Lucky Day
Too Many Fire Engines
Santa's Little Engine
The Afternoon Tea Express
Stephen will appear in the eighteenth season.
Voice Actor
Merchandise
Thomas Wooden Railway
Take N' Play
TrackMaster
Wind-up Trains
Mega Bloks (coming soon)
Theme
Stephen's Theme is the his Season 17 theme.
Counterparts (Hero version)

 WARNING: You may add appropriate counterparts. But, do NOT delete any.
Counterparts (Villain version)

 WARNING: You may add appropriate counterparts. But, do NOT delete any.
Koopa Kid (Super Mario Bros.)
Gallery

Main article:
Stephen the Rocket Engine/Gallery
Ad blocker interference detected!
Wikia is a free-to-use site that makes money from advertising. We have a modified experience for viewers using ad blockers

Wikia is not accessible if you've made further modifications. Remove the custom ad blocker rule(s) and the page will load as expected.