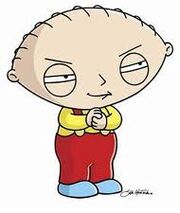 Stewart Gilligan "Stewie" Griffin
is the main antagonist on
Family Guy
. He is voiced by
Seth MacFarlane
.
Relatives
Appears In
Counterparts (Villain Version) (Boy Version)
Counterparts (Hero Version)
Counterparts (Girl Version)
Maggie Simpson (The Simpsons, both are the youngest child in their families)
Anais Watterson (both are intelligent, strong, independent , and the youngest in their families)
Parodies
Gallery
Ad blocker interference detected!
Wikia is a free-to-use site that makes money from advertising. We have a modified experience for viewers using ad blockers

Wikia is not accessible if you've made further modifications. Remove the custom ad blocker rule(s) and the page will load as expected.