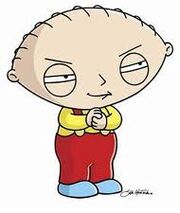 Stewart Gilligan "Stewie" Griffin
is the main antagonist on
Family Guy
. He is voiced by
Seth MacFarlane
.
Relatives
Appears In
Counterparts (Villain Version) (Boy Version)
Bowser, Bowser Jr., Wario, or Waluigi (Super Mario Bros.)
Dick Dastardly (Wacky Races/Dastardly and Muttley)
Mr. Steinbeck, Chef Pee Pee, or Black Yoshi (SML)
Mitch (Good Luck Charlie)
Mattia Focacci (Niki)
Sid Philips (Toy Story) 
Eric Cartman (South Park)
Kyle Bloodworth-Thomason (Fanboy and Chum Chum)
Gobbo the Goblin (Noddy's Toyland Adventures)
Rattles (Arthur)
King Dedede or Meta Knight (Kirby)
Chick Hicks or Miles Axlerod (Cars 1 & 2)
Spike (Flushed Away)
Cub (Happy Tree Friends)
Ice King (Adventure Time)
Mandark (Dexter's Laboratory)
Billy Blizzard (Rupert)
Were Skunk Warlock or Ello Gov'Nor (Regular Show)
Heihachi Mishima (Tekken)
Rodrick Heffley or Pete Hosey (Diary of a Wimpy Kid)
Boy Panic (Hercules)
honest or wave (akame ga kill)
Counterparts (Hero Version)
Counterparts (Girl Version)
Maggie Simpson (The Simpsons, both are the youngest child in their families)
Anais Watterson (both are intelligent, strong, independent , and the youngest in their families)
Parodies
Gallery
Ad blocker interference detected!
Wikia is a free-to-use site that makes money from advertising. We have a modified experience for viewers using ad blockers

Wikia is not accessible if you've made further modifications. Remove the custom ad blocker rule(s) and the page will load as expected.