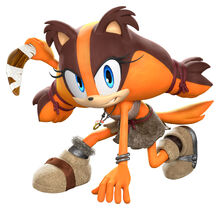 Sticks the Badger is a tomboyish character from Sonic Boom. Having grown up in the wild, she's a bit unhinged.
Counterparts (Sonic Boom version)
Rosie, Mavis or Millie (Thomas and Friends, Sticks & Mavis are both Tomboyish)
Birdo or Princess Peach (Super Mario Bros.)
Counterparts (Sonic Version)
Sticks or Ajax (Thomas and Friends, the Former shares the Same Name)
Ad blocker interference detected!
Wikia is a free-to-use site that makes money from advertising. We have a modified experience for viewers using ad blockers

Wikia is not accessible if you've made further modifications. Remove the custom ad blocker rule(s) and the page will load as expected.