This was released when the only way you could get this was by sending your subscription form that came in with the
Alex, Terrence and Sheridan's Big Holiday
 DVD.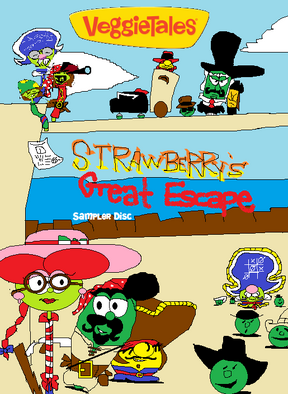 This Sampler DVD includes
Daniel and the Lions' Den (from Where's God When I'm Scared)
A Mess Down in Egypt (performed by the Boyz in the Sink, from Moe and the Big Exit)
How to Draw Elliot
Behind the Scenes of The Great Escape! - A fun hilarious high-seas musical that teaches kids about having the courage to do what's right.
Behind-the-scenes footage, "How to draw" segments, and teaser trailers from upcoming VeggieTales videos!
A chance to win the S.A.G.E. internet sweepstakes!
Ad blocker interference detected!
Wikia is a free-to-use site that makes money from advertising. We have a modified experience for viewers using ad blockers

Wikia is not accessible if you've made further modifications. Remove the custom ad blocker rule(s) and the page will load as expected.