Strength määrittelee pelaajan voiman. Mitä isompi Strenght level, sitä enemmän pelaaja tekee vahinkoa meleehyökkäyksillä.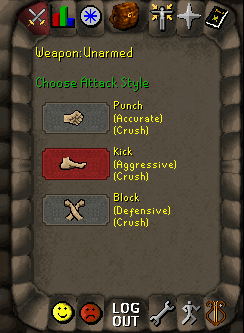 Kokemuspisteet
On olemassa kaava jota käytetään määrittämään kuinka paljon expaa (xp, experience) pelaaja ansaitsee taistellessaan aggressivella. Kun pelaaja osuu kohteeseensa ja tekee tähän vahinkoa, vahingon määrä kerrotaan neljällä, ja saadaan ansaittu expamäärä. Eli jos pelaaja iskee esim- 10, hän saa 40 expaa Aggressiveen.
Taistellessasi myös Hitpoints-taito saa expaa tekemäsi vahingon mukaan, jos pelaaja osuu kohteeseensa, vahingon määrä kerrotaan 1,33:lla, ja saadaan expamäärä jonka pelaaja saa Hitpointseihinsa. Jos pelaaja iskee esim. 10, hän saa 13,3 expaa Hitpointsiin 40 Strenght expan lisäksi.
Strengthin edut
Taistellessaan aggressiivisesti pelaajat tekevät enemmän vahinkoa kuin taistellessaan accuratella (Attack), defensivellä (Defence), tai controlledilla. Tämän takia Strenght on suosittu taito, koska useimmat pelaajat haluavat iskeä enemmän.
Strength bonus
Useimmat aseet antavat 'Strenght bonusta', minkä näkee Inventoryn vieressä olevasta Equipment menusta. Strenght bonus vaikuttaa nostavasti pelaajien tekemään vahinkoon.
Voimakkaimmilla aseilla kuten two-handed swordeilla tai battleaxeilla on korkea Strenght bonus, kun taas heikommilla aseilla kuten daggereilla tai swordeilla on alhainen Strenght bonus. Mitä parempi metalli, sitä suurempi Strenght bonus, esimerkiksi Iron Two-Handed Swordilla on parempi Strenght bonus kuin Bronze Two-Handed Swordilla.
Väliaikaiset bonukset
Strength Potion nostaa väliaikaisesti Strenghtiäsi 10%.
Super Strength Potion nostaa väliaikaisesti Strenghtiäsi 20%.
Ad blocker interference detected!
Wikia is a free-to-use site that makes money from advertising. We have a modified experience for viewers using ad blockers

Wikia is not accessible if you've made further modifications. Remove the custom ad blocker rule(s) and the page will load as expected.