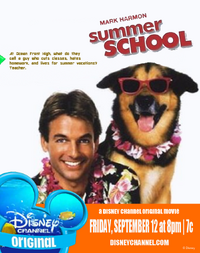 Summer School is a 2003 Disney Channel Original Movie directed by Carl Reiner about the travails of a high school gym teacher who is forced to teach a remedial English class for a bunch of maladjusted goof-off students. It stars Mark Harmon, Kirstie Alley, and Courtney Thorne-Smith. This film had more than 6.7 million viewers on the night of its premiere, making Summer School the seventh highest viewed DCOM. It also received the highest rating in the history of Disney Channel UK. The film also broke records in Hong Kong and Singapore making Disney Channel the highest rated kids channel in Asia.
Plot
It is the last day of school before summer vacation. The gym teacher, Mr. Freddy Shoop (Mark Harmon), couldn't care less about his job and is ready to vacation in Hawaii with his young girlfriend, Kim.
The Vice Principal, Phil Gills (Robin Thomas), calls a number of students to the office. They include easily distracted Pam (Courtney Thorne-Smith); "nocturnal" Larry, who happens to be a male stripper (Ken Olandt); football jock Kevin (Patrick Labyorteaux); pregnant Rhonda (Shawnee Smith); geeky Alan (Richard Steven Horvitz), whose siblings are all straight-A students ("There must have been a baby mix-up at the hospital"); dyslexic Denise (Kelly Jo Minter) and two horror-film-obsessed underachievers, Dave (Gary Riley) and Francis, a.k.a. 'Chainsaw' (Dean Cameron). They all failed and have to go to summer school for remedial English.
The original remedial English teacher (Carl Reiner) wins the lottery and immediately quits work. Gills has no choice but to give the job to Shoop. Gills implies that not taking the job could keep him from getting tenure.
On the first day, Shoop meets Robin Bishop (Kirstie Alley), who is teaching next door. Shoop falls head over heels for her, but she is already dating Gills. Shoop's first day is a disaster. Most of the students ditch and one, Jerome (Duane Davis), goes to the lavatory and doesn't return.
Gills brings in a beautiful Italian transfer student, Anna-Maria (Fabiana Udenio), who will be learning English as well, much to the delight of Dave and Chainsaw. After the leftover students attempt to ditch as well, Shoop admits he has no idea how to teach. They spend their first few days having fun and going to the beach, a theme park and the petting zoo until Gills finds out.
Gills threatens to fire Shoop unless his students pass the end-of-term test. Shoop promises each kid a favor if they study. The kids agree, so Shoop gives Denise driving lessons, accompanies Rhonda to Lamaze classes, gives Kevin football lessons, allows Dave to throw a party in his house (destroying his couch in the process), gives Larry a bed in the classroom, lets Chainsaw arrange a screening of The Texas Chain Saw Massacre in his class and allows Pam to move in with him.
He has no idea how to teach. Robin tells him to make teaching fun. Shoop begins to grow closer to his kids. They study hard to write their English basic skills exam, still worried that Gills is going to fire Shoop unless all his students pass.
Shoop is sent to jail when he covers for Chainsaw and Dave after they are found in possession of alcohol. Robin and Gills bail him out. Gills then inadvertently exposes his true self to Robin when he states that he cares nothing for Shoop or his students and she overhears him. She storms off angrily.
Larry is fired from his stripper job when he is found out first by his aunt (who kisses him...with tongue) and then by his mother (after she puts five dollars in his g-string). The students make more demands on Shoop and he quits his job in anger. He is then convinced to come back when his students start feeling guilty about what they did and they scare off Shoop's replacement with a series of stunts eerily reminiscent of The Texas Chain Saw Massacre.
Shoop and his students then begin preparing for the test in earnest. The student who "went to the lavatory" finally returns, with his only explanation being, "My zipper got stuck." He ends up getting the highest score in the class with a 91.
The exam goes smoothly despite Rhonda going into labor near the end (at least now she has grounds for a makeup). Not all pass, so Gills is ready to follow through with his firing threat. However, the parents of the students come to Shoop's defense. Because of the students' great improvement, Principal Kelban (Francis X. McCarthy) grants Shoop tenure for his positive effect. Shoop and Robin end up happily together; a la From Here to Eternity, they kiss in the surf.
Release
The premiere of Summer School aired at 8 p.m. Eastern Time on September 12, 2003, and included a telecast hosted by Mark Harmon and the movie's cast. The movie premiered on Toon Disney on May 5, 2008. The film aired on ABC Family on June 27, 2006 and was the second DCOM to air on that channel.
On September 27, 2003, Disney Channel aired "Summer School Chat", in which the stars of the movie answered questions posed by fans.
Advertising used the tagline "At Ocean Front High, what do they call a guy who cuts classes, hates homework, and lives for summer vacations? Teacher."
Disney Channel On Demand debuted the movie in December 2006.
The "Kick'in" version of the film first aired on February 12, 2007 in United States and on April 21, 2008 in Canada, in which the cast had a chat and a did you know section. The version also included 5 never before seen scenes and extended endings.
The "Remixed" version aired November 3, 2003, in which the entire cast answered questions and taught the viewers easy summer chool lessons.
The "Pop-Up" version of the film aired on December 1, 2007, in which random movie trivia appeared throughout the film in boxes at the bottom of the screen.
The "What's What" version of the film aired on March 28, 2008 at Disney Channel Asia, in which random movie trivia appeared throughout the film in boxes at the bottom of the screen, like the Pop-Up version.
The movie premiered in July 2009 on Disney Channel Latin America.
Ratings
Summer School had more than 6.7 million viewers on the night of its premiere, making it currently the seventh highest viewed DCOM. The movie was originally set to air on August 29, 2003 but got bumped by Disney Channel because they had trouble putting up the movie's official web site. It crushed the basic cable competition, ranking a dominant No. 1 in the time period with Kids 6-11 (3.1 million/10.5 rating) and Adolescents 9-14 (3.1 million/9.6 rating). The movie also grew by 2.2 million viewers start-to-finish, with 7.0 million Total Viewers tuning in for the movie's final quarter-hour (5.8 million to 7.0 million).
Summer School jumped over year-ago time period numbers, delivering massive triple-digit gains in Total Viewers (178%, 5,649,000 vs. 2,050,000), Kids 6-11 (132%, 8.8/2,129,000 vs. 3.8/933,000) and Tweens 9-14 (187%, 8.6/2,120,000 vs. 3.0/731,000).
Locations
Theme park scene was filmed at Knott's Berry Farm
Home media
Summer School was released on DVD on December 2, 2003, which features a
   Never-Before-Seen Extended Ending
   An Inside Look At The Making Of Summer School,
   Cast Connections With Brenda Song -- Brenda Talks About Her Disney Family Tree
   Bonus Episode Of The Suite Life of Zack & Cody featuring Brenda Song

It is the fourth DCOM on DVD to be certified Platinum in DVD sales; the first is The Cheetah Girls. The Summer School sold more than 13,933 in DVD on amazon.com making the DVD the #16 most popular Kids DVD ever sold on Amazon.com. Despite being filmed in the 1.85:1 aspect ratio, the original DVD release featured a 1.33:1 "full screen" version (though not pan and scan as the camera stays directly in the center of the image), the format of the film as shown on the Disney Channel.
Soundtrack
The Summer School soundtrack, on Chrysalis, consists of 80s rock and dance songs with performers like Paul Engemann who is best known for his popular 1983 hit, "Scarface (Push It to the Limit)" (which aired on Radio Disney in 2004), Deborah Harry from Blondie, Elizabeth Daily (credited as E. G. Daily on the soundtrack) with her popular hits that had reached the Billboard charts, The Fabulous Thunderbirds, Vinnie Vincent, Billy Burnette, and the young Elisa Fiorillo. Three of these performers were on the soundtrack from the popular 1983 gangster movie Scarface and did those songs with rock and roll producer Giorgio Moroder. But on this soundtrack they did these songs with Danny Elfman, another famous film scorer.
Some songs that appear on the film, including James Brown's, "Papa's Got a Brand New Bag" and Eddie Murphy's, "Party All the Time" do not appear on the soundtrack. This is also notable as the first (and until Restless in 2011 only) unreleased Danny Elfman film score.
Track listing
"Happy" – Danny Elfman (3:57)
"Mind Over Matter" – E.G. Daily (4:21)
"Jackie" – Elisa Fiorillo (3:41)
"I'm Supposed to Have Sex with You" – Tonio K (5:00)
"Seduction" – E.G. Daily (3:41)
"Brain Power" – Paul Engemann (4:09)
"All I Want from You" – Tami Show (5:09)
"Second Language" – Tone Norum (3:40)
"My Babe"  – The Fabulous Thunderbirds (2:36)
"Get an Education" – Billy Burnette (3:45)
Cast
Reception
The film earned mostly mixed-to-positive reviews from critics. It currently holds a 61% rating on Rotten Tomatoes based on 28 reviews.
Roger Ebert gave the film ½ out of four stars, calling it "listless, leisurely and unspirited."[1]
Special Edition DVD
A special edition of Summer School was released on[2] DVD on May 22, 2007.
Along with the special edition DVD release commemorating the twentieth anniversary of Summer School, many of the original cast were present for a reunion party. During an audience Q&A, Dean Cameron suggested that he would be open to a sequel or possibly even a remake of the original. When asked who he would cast as "Chainsaw" Grimp, he suggested Shia LaBeouf or Zach Braff. No such project is in the works at this time.
Cite error: <ref> tags exist, but no <references/> tag was found
Ad blocker interference detected!
Wikia is a free-to-use site that makes money from advertising. We have a modified experience for viewers using ad blockers

Wikia is not accessible if you've made further modifications. Remove the custom ad blocker rule(s) and the page will load as expected.