SuperMarioLogan has a large, full-fledged, free-standing wiki located at sml.wikia.com
(interwikilink → w:c:sml:)
SuperMarioLogan at Wikia
---
[
]
Welcome to the SuperMarioLogan mini wiki at Scratchpad!
You can use the box below to create new pages for this mini-wiki.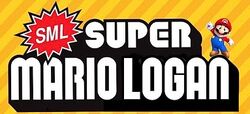 SuperMarioLogan is a YouTube channel operated by Logan Thirtyacre and produced by him, his brother Lance Thirtyacre, and his good friends Lovell Stanton and Chris Netherton. The channel primary uploads comedic sketch-comedy videos, featuring plushes or puppets. Some main characters of the series include Mario, Bowser, Bowser Junior, Chef Pee Pee, Black Yoshi, Toad, Shrek and Woody. It has been online since December 8th, 2007.
Parodies

 WARNING: You may add parodies. But, do NOT delete any. Complete parodies list
Notes
See also
Ad blocker interference detected!
Wikia is a free-to-use site that makes money from advertising. We have a modified experience for viewers using ad blockers

Wikia is not accessible if you've made further modifications. Remove the custom ad blocker rule(s) and the page will load as expected.