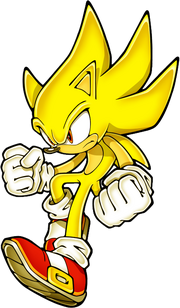 Super Sonic 
is a
Sonic's
super form from 
Sonic the Hedgehog
.
Counterparts (Sonic version, Do not delete, but you can add)
Super Mario (Super Mario Bros.)
Beam Kirby (Kirby)
Super Saiyan Goku (Dragon Ball Series)
Older Tai (Digimon)
AGRESSION Liu Kang (Mortal Kombat)
Counterparts (Fleetway Version)
Megidramon (Digimon Tamers)
Carnage (Spider-Man)
Dark Danny or Paraiah Dark (Danny Phantom)
Ad blocker interference detected!
Wikia is a free-to-use site that makes money from advertising. We have a modified experience for viewers using ad blockers

Wikia is not accessible if you've made further modifications. Remove the custom ad blocker rule(s) and the page will load as expected.