Ad blocker interference detected!
Wikia is a free-to-use site that makes money from advertising. We have a modified experience for viewers using ad blockers

Wikia is not accessible if you've made further modifications. Remove the custom ad blocker rule(s) and the page will load as expected.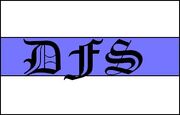 Demokratyczny Front Surmenii (DFS) powstał 14 maja 2006 roku. Jej założyczielem był Tomasz DrabikPany. Partia była organizatoram Niebieskiej Rewolucji.
Program Partii
Włączenie się Surmenii do polityki międzynarodowej i zacieśnienie stosunków dyplomatycznych z innymi mikronacjami.
Stworzenie niezależnej gazety.
Utworzenie Wolnych związków zawodowych.
Szerokozakrojona akcja informująca o Surmenii w całym internecie.
Powołanie rzecznika Praw Obwatelskich ,który by stał na straży praw i wolności obwatelskich.
Utworzenie paktu wojskowego pomiędzy przyjaznymi Mikronacjami.
Uchwalenie budżetu
powołanie do życia kilku ustaw (m.in. spraw zagranicznych i o gospodarce)
Linki