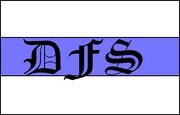 Demokratyczny Front Surmenii (DFS) powstał 14 maja 2006 roku. Jej założyczielem był Tomasz DrabikPany. Partia była organizatoram Niebieskiej Rewolucji.
Program Partii
Włączenie się Surmenii do polityki międzynarodowej i zacieśnienie stosunków dyplomatycznych z innymi mikronacjami.
Stworzenie niezależnej gazety.
Utworzenie Wolnych związków zawodowych.
Szerokozakrojona akcja informująca o Surmenii w całym internecie.
Powołanie rzecznika Praw Obwatelskich ,który by stał na straży praw i wolności obwatelskich.
Utworzenie paktu wojskowego pomiędzy przyjaznymi Mikronacjami.
Uchwalenie budżetu
powołanie do życia kilku ustaw (m.in. spraw zagranicznych i o gospodarce)
Linki
Ad blocker interference detected!
Wikia is a free-to-use site that makes money from advertising. We have a modified experience for viewers using ad blockers

Wikia is not accessible if you've made further modifications. Remove the custom ad blocker rule(s) and the page will load as expected.