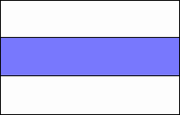 Flaga Narodowa Surmeni składa się z trzech pasów : Białego ,Niebieskiego i Białego. Nie wiadomo co oznaczają te kolory. Oto co mówi o fladze Konstytucja KS: Flagą narodową KS jest tkanina o stosunku dł. do szer. 5:3, składająca się z trzech poziomych pasów: białego, jasnoniebieskiego i białego o stosunkach szerokości pasów do szerokości flagi odpowiednio: 1:1:1.
Ad blocker interference detected!
Wikia is a free-to-use site that makes money from advertising. We have a modified experience for viewers using ad blockers

Wikia is not accessible if you've made further modifications. Remove the custom ad blocker rule(s) and the page will load as expected.