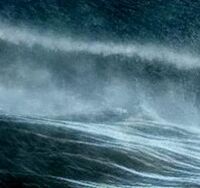 Kun
Madame Nivawk
aktivoi
Toatapio Nuvan
pahan puolen, Toatapio Nuva aloitti ison voiman keräämisen. Hän keräsi sitä itse
Bio-Maasta
ja kaikesta mitä siellä oli. Tämä aiheutti valtavan luonnon epätasapainon ja järkytti sitä niin, että luonto sekosi täysin. Kaikki, jopa saammuneet tulivuoret purkautuivat ja laavaa tuli ulos jatkuvasti. Laava sytytti useita metsä paloja. Bio-Maan kaikista alimpana olevat osat joutuivat veden alle ja itse saari repesi kappaleiksi. Suuri Katastrofi aiheutti myös suuren, jatkuvan ukkosmyrskyn ja Bio-Maan taivas pimeni. Jollakin tavalla Katastrofi myös vaikutti Bio-Maan vesiin, muuttaen ne mutatoiviksi, mutta vielä ei täsmälleen tiedetä miten.
Suuri Katastrofi on tuhonnut Bio-Maan.
Ad blocker interference detected!
Wikia is a free-to-use site that makes money from advertising. We have a modified experience for viewers using ad blockers

Wikia is not accessible if you've made further modifications. Remove the custom ad blocker rule(s) and the page will load as expected.