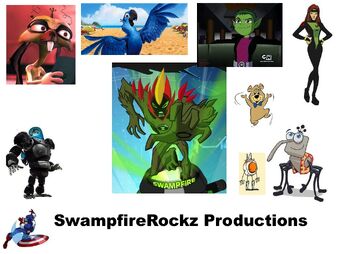 SwampfireRockz
LIST OF MOVIES/VIDEO GAMES/TV SHOWS SO FAR
6Teen
9 (Film)
A Bug's Life
A.T.O.M. Alpha Teens On Machines
Adventure Time
Aladdin
Aladdin 2: The Return of Jafar
Aladdin 3: Aladdin and the King of Thieves
Alienators: Evolution Continues
Aliens in the Attic
All Grown Up!
Archie's Weird Mysteries
Arthur Christmas
Atom Ant
Bee Movie
Ben 10
Ben 10 Alien Force
Ben 10 Ultimate Alien
Ben and Holly's Little Kingdom
Bin Weevils
Bratz Babyz
Brother Bear
Brother Bear 2
Bump in the Night
Buzzy the Crow (Shorts)
Camp Lazlo
Cars
Cars 2
Chowder
Cloudy with a Chance of Meatballs (2009)
Code Lyoko
Despicable Me
Defenders of the Earth
Dexter's Laboratory
Digimon
Dinosaur
Dinosaur King
Dinosaur Train
Disnet Shorts
Donkey Kong Country (TV series)
Dumbo
Ed, Edd n Eddy
Fanboy and Chum Chum
The Fairly OddParents
A Fairly Odd Movie: Grow Up Timmy Turner
Foster's Home for Imaginary Friends
Finding Nemo
Flash Gordon
Flash Gordon (1996)
Fly Me to the Moon
Flushed Away
Generator Rex
Hello Kitty
Hello Kitty and Friends
Hello Kitty's Animation Theater
Hello Kitty's Furry Tale Theater
Hello Kitty's Paradise
Herman and Katnip (Shorts)
Hey There, It's Yogi Bear!
How to Train Your Dragon
Hokey Wolf
Hop
Huckleberry Hound
Ice Age
Ice Age 2
Ice Age 3
Igor
Iron Man
Jimmy Neutron: Boy Genius (2001)
John Carter (2012)
Johnny Test
Kong: The Animted Series
Kung Fu Panda
Kung Fu Panda 2
Kung Fu Panda Holiday Special
Kung Fu Panda: Legends of Awesomeness
Kung Fu Panda: Secrets of the Furious Five
Kung Fu Panda: Secrets of the Masters
Lady and the Tramp
Lady and the Tramp 2: Scamp's Adventures
Lilo and Stitch
Lilo and Stitch 2
Leroy and Stitch
Looney Tunes
MAD (2010)
Madagascar
Madagascar: Escape 2 Africa
Martin Mystery
Megamind
Monsters Vs Aliens
Mucha Lucha!
Mummies Alive!
Mummy Nanny
My Little Pony: Friendship is Magic
Mulan
Next Avengers: Heroes of Tomorrow
Open Season
Open Season 2
Open Season 3
Ozzy and Drix
Peppa Pig
Pet Alien
Pink Panther and Pals
Planet 51
Phineas and Ferb
Phineas and Ferb: Across the 2nd Dimension
Pokemon
Quick Draw McGraw
Ratatouille
Regular Show
Reboot
Rio (2011)
Rock-A-Doodle
Rocko's Modern Life
Rugrats
Samurai Jack
Sesame Street
Shark Tale
Sheep in the Big City
Shrek
Skunk Fu
Snooper & Blabber
Space Chimps
Space Chimps 2
SpongeBob SquarePants
Sonic the Hedgehog Videogames Series
Sonic the Hedgehog (1993 animated series)
Sonic Underground
Sonic X
Star Wars
Star Wars: Clone Wars (2003 TV series)
Star Wars: The Clone Wars (movie)
Star Wars: The Clone Wars (series)
Static Shock
Street Fighter IV
Superted
Teen Titans
The Amazing World of Gumball
The Ant and the Aardvark
The Avengers: Earth's Mightiest Heroes
The Batman 2004
The Grim Adventures of Billy & Mandy
The Jungle Book
The Jungle Book 2
The Super Hero Squad Show
The Sword in the Stone
The Three Caballeros
Toy Story
Toy Story 2
Toy Story 3
T.U.F.F. Puppy
Up (2009)
W.I.T.C.H.
WALL-E
Winnie The Pooh
Wolverine and the X-Men
X-Men
X-Men Evolution
Yam Roll
Yin, Yang, Yo
Yogi Bear
A LIST OF PARODIES
MY FAVORITE CHARACTER:
Swampfire (Ben 10 Alien Force and Ultimate Alien)
Jean Grey (X Men: Evolution) (Swampfire's Girlfriend)
Scamper (Igor)
Boo Boo Bear
Tink (Bin Weevils)
Minion (MegaMind)
Dinko (Pet Alien)
Blu (Rio 2011)
Ad blocker interference detected!
Wikia is a free-to-use site that makes money from advertising. We have a modified experience for viewers using ad blockers

Wikia is not accessible if you've made further modifications. Remove the custom ad blocker rule(s) and the page will load as expected.