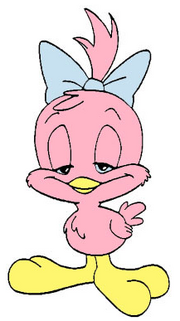 Sweetie Pie
is a recurring character from
Tiny Toon Adventures
. She is voiced by
Candi Milo
.
Bio
Species: Anthropomorphic Canary
Age: 3 & 1/2
Feather Color: Pink
Clothing: Blue Ribbon
Friends: Li'l Sneezer (Love Interest), Tweety (Mentor)
Enemies: Furrball, Bookworm
Counterparts (Tiny Toon Adventures Version)
Caroline or Judge Judy (Thomas the Tank Engine and Friends)
Hilda (Dastarldy and Muttley)
Kate Read (Arthur)
Ghost Girl (Harror the Robot)
Torchic, Marill or Emolga (Pokemon)
Heather, Jo or Scarlett (Total Drama)
Piella Bakewell (Wallace and Gromit, both are pink, have "Pie" in their names, and are sadistic animal abusers)
Counterparts (Animaniacs Version)
Parodies
Ad blocker interference detected!
Wikia is a free-to-use site that makes money from advertising. We have a modified experience for viewers using ad blockers

Wikia is not accessible if you've made further modifications. Remove the custom ad blocker rule(s) and the page will load as expected.