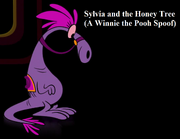 SylviaRockz's movie spoof of "Winnie the Pooh and the Honey Tree"
Cast
Sylvia (Wander Over Yonder) as Winnie the Pooh
Elsa (Frozen) as Rabbit
Wreck-It Ralph as Eeyore
Olaf (Frozen) as Owl
Gloria (Madagascar) as Kanga
Peter Sam (Thomas and Friends) as Roo
Wander (Wander Over Yonder) as Gopher
Andy Davis (Toy Story) as Christopher Robin
Troublesome Trucks (Thomas and Friends) as The Bees
and more
Songs
"Sylvia the Zbornak"
"Up, Down and Touch and Ground"
"Rumbly in My Tumbly"
"Little Black Rain Cloud"
"Mind Over Matter"
Ad blocker interference detected!
Wikia is a free-to-use site that makes money from advertising. We have a modified experience for viewers using ad blockers

Wikia is not accessible if you've made further modifications. Remove the custom ad blocker rule(s) and the page will load as expected.