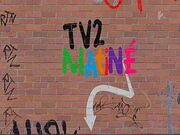 TV2 Matiné (in English: TV2 matinee) is a Hungarian programming block on TV2. The block launched in 1998. It is aired on weekends and holidays from 6:45 to 10:00 in the morning.
Current programming
Former programming
Cartoon Network
The programm block was air from 2000 to 2003. This was separated from TV2 Matiné and aired Cartoon Network shows.
Programming
Fox Kids and Jetix
The block started after the Cartoon Network block was terminated. The block aired Fox Kids shows. When Fox Kids closed, the block was renamed as Jetix.
Programming
Nickelodeon kedvencek (Nickelodeon favourites)
The block was air from 12 September 2009 to Christmas 2011, and aired Nickelodeon show.
Programming
Parodies
Ad blocker interference detected!
Wikia is a free-to-use site that makes money from advertising. We have a modified experience for viewers using ad blockers

Wikia is not accessible if you've made further modifications. Remove the custom ad blocker rule(s) and the page will load as expected.