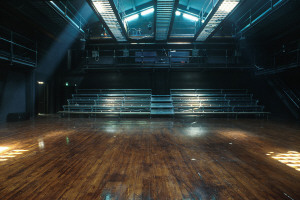 ---
Situado atrás do Anfiteatro, na esquina entre a Ala Norte e Oeste, está o Tablado de Ensaio da Trupe Cliodna. Os alunos atores e atrizes sempre podem encontrar se aqui discutindo uma nova peça, lendo roteiro ou preparando-se para entrar em cena. É onde também localiza-se os camarins. Nos ensaios, podem ser feito brincadeiras, artes circenses, trabalham o seu condicionamento físico, a expressão corporal, etc.
Uma placa presa na porta do Tablado foi escrita pela Marie Anne Extralline, uma das maiores atrizes bruxas que começou sua carreira na Trupe Universitária:
Um lugar para se aprender a arte de atuar. Por onde grandes mestres do teatro já passaram e continuam passando. Apresentações acontecem todos os meses.
Inscreva-se nesse fabuloso mundo.
Página Inicial | Estrutura

Ad blocker interference detected!
Wikia is a free-to-use site that makes money from advertising. We have a modified experience for viewers using ad blockers

Wikia is not accessible if you've made further modifications. Remove the custom ad blocker rule(s) and the page will load as expected.