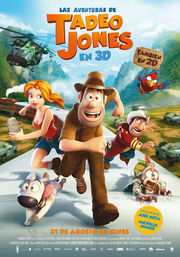 Tad, the Lost Explorer (Spanish: Las aventuras de Tadeo Jones) is a 2012 Spanish 3D computer-animated adventure comedy film directed by Enrique Gato. The film is the outgrowth of Gato's 2004 short film, Tadeo Jones and its sequel Tadeo Jones and the Basement of Doom. It was written by Javier Barreira, Gorka Magallón, Ignacio del Moral, Jordi Gasull and Neil Landau. The film's music was composed by Zacarías M. de la Riva. The English cast features voices of Kerry Shale, Ariel Winter, Bruce Mackinnon, Mac McDonald, Liza Ross, Cheech Marin and Adam Jones. The film was produced by Telecinco Cinema, El Toro Picture, Lightbox Entertainment, Ikiru Films, Telefónica Producciones, and Media Networks, with the participation of AXN, Canal Plus and TVC.
The film premiered at the Annecy International Animated Film Festival on 5 June 2012 and was theatrically released on 31 August 2012 in Spain by Paramount Pictures. It was nominated for 5 Goya Awards, winning 3 for Best Animated Film, Best New Director and Best Adapted Screenplay at the 27th Goya Awards. The film received negative reviews from critics and it earned €45 million on a €8 million budget. A sequel, titled Tad Jones: The Hero Returns, will be released in 2017.
Parodies (Don't delete, but you can add some more)
Ad blocker interference detected!
Wikia is a free-to-use site that makes money from advertising. We have a modified experience for viewers using ad blockers

Wikia is not accessible if you've made further modifications. Remove the custom ad blocker rule(s) and the page will load as expected.