Tai Rimura
Tai Rimura
Herkunft
Erde
Rasse
Zidaya/Mensch
Geburtsdatum
?
Alter
?
Familie
Vater: Keilatu


Mutter: Jen

Haarfarbe
orangerot
Augenfarbe
braun
Größe
170cm
Gewicht
70kg
Waffe
?
Techniken
Elementarzauber, Lichtverschmelzen
Geschichte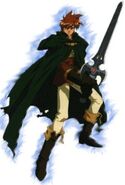 Er wurde 1 Jahr nach dem
Elementarkrieg
geboren, als Sohn von
Keilatu
und
Jen
. Durch sein Leuchten wurde er immer geärgert bis er durchdrehte und seine Kraft bemerkte, daraufhin fing Keilatu an ihn zu trainieren. Bis jetzt lebt er bei seinen Eltern.
Charakter
Ruhig, höflich und stur.
Stärken
Wenn er will kann er kurzzeitig mit dem Licht verschmelzen und wird dadurch unsichtbar (keine Ki-Steigerung).
Schwächen
Für Freunde tut er alles/dreht manchmal durch, wenn das passiert können ihn nur noch seine Freunde halten.
Ad blocker interference detected!
Wikia is a free-to-use site that makes money from advertising. We have a modified experience for viewers using ad blockers

Wikia is not accessible if you've made further modifications. Remove the custom ad blocker rule(s) and the page will load as expected.