Ad blocker interference detected!
Wikia is a free-to-use site that makes money from advertising. We have a modified experience for viewers using ad blockers

Wikia is not accessible if you've made further modifications. Remove the custom ad blocker rule(s) and the page will load as expected.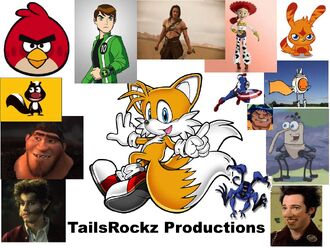 TailsRockz
LIST OF MOVIES/VIDEO GAMES/TV SHOWS SO FAR:
101 Dalmatians
2 Stupid Dogs
6teen
A Bug's Life
Adventure Time
Action League Now!
Aliens in the Attic
Alvin and the Chipmunks
An American Tail 1&2: Fievel Goes West
Angry Birds
Angry Birds Toons
As Told by Ginger
Atom Ant
Avatar: The Last Airbender
Bambi 1&2
Batman
Ben 10
Ben 10 Alien Force
Ben 10 Ultimate Alien
Ben and Holly's Little Kingdom
Basil Brush
Biker Mice from Mars
Big Wolf on Campus
Bolt
BraveStarr
Brover (2012)
Brother Bear 2
Bump in the Night
Buzzy the Crow
Camp Lazlo
Cars 2 (Pixar)
Cats Don't Dance
Catdog
Catscratch
Caveman (1981)
Chowder
Chicken Run
Class of 3000
Class of the Titans
Cloudy with a Chance of Meatballs
Cloudy with a Chance of Meatballs 2
Coconut Fred's Fruit Salad Island
Courage the Cowardly Dog
Despicable Me
Dexter's Laboratory
Digimon
Disney Shorts
Dora the Explorer
Dumbo
Ed, Edd, Eddy
Fairly Odd Parents
Family Guy
Flash Gordon
Fantastic Four
Game Over (2004)
Gogs
Hello Kitty
Hercules
Hero 108
Hey There, It's Yogi Bear!
Hokey Wolf
Home on the Range
Hop
Huckleberry Hound
Ice Age
Ice Age 2
Ice Age 3
Igor
Invader Zim
Johnny Test
John Carter (2012)
Jungle Cubs
Jurassic Park
Jurassic Park III
Kick Buttowski: Suburban Daredevil
Kid vs. Kat
King Arthur's Disasters
Kong: The Animated Series
Kung Fu Panda
Kung Fu Panda 2
Lilo & Stitch
Looney Tunes
Madagascar
Madagascar: Espace 2 Africa
M.A.S.K. (1985)
Martin Mystery
Minions
Meet The Robinsons
Megamind
Monsters Inc
Monsters Vs Aliens
Moshi Monsters
Moshi Monsters The Movie
Mulan
Mummies Alive!
Mummy Nanny
My Life as a Teenage Robot
Noddy's Toyland Adventures
Oggy and the Cockroaches
Oliver & Company
Once Upon a Time... Life
Open Season
Open Season 2
Open Season 3
Oscar's Oasis
Osmosis Jones
Ozzy and Drix
Packages from Planet X
Peppa Pig
Pet Alien
Peter Pan
Phineas and Ferb
Pinocchio
Pixie and Dixie
Pocahontas
Planet 51
Planet Sheen
Popeye
Pokemon
Prince of Persia: The Sands of Time (2010)
Pucca
Quest for Camelot
Regular Show
Rio (2011)
Rio 2 (2014)
Road Runner
Rock-A-Doodle
Rocko's Modern Life
Robin Hood
Roboroach
Sailor Moon
Samurai Jack
Shark Tale
Skunk Fu
Sleeping Beauty
Sonic the Hedgehog
Sonic the Hedgehog (1993 Animated Series)
Sonic X
Sonic Underground
Snow White and the Seven Dwarfs
Space Chimps
SpiderMan
SpongeBob SquarePants
Superted
Static Shock
Stoked
SuperTed
T.U.F.F. Puppy
Tarzan
Tarzan 2
Teen Titans
The Addams Family
The Adventures of Jimmy Neutron: Boy Genius
The Adventures of Sonic the Hedgehog
The Amazing World of Gumball
The Ant and the Aardvark
The Aristocats
The Avengers: Earth's Mightiest Heroes
The Big Knights
The Black Cauldron
The Book of Life (2014)
The Cave (2005)
The Cavern (2005)
The Croods
The Fox and the Hound
The Hunchback of Notre Dame
The Jungle Book
The Jungle Book 2
The Lion King
The Looney Tunes Show
The Lost World: Jurassic Park
The Many Adventures of Winnie the Pooh
The Marvel Super Heroes
The Mighty B!
The Monster Allergy
The New Addams Family
The Number Crew 
The Penguins of Madagascar
The Powerpuff Girls
The Princess and the Frog
The Quick Draw McGraw Show
The Rescuers
The Rescuers Down Under
The Road to El Dorado
The Secret Saturdays
The Simpsons
The Smurfs (2011)
The Snowman
The Super Hero Squad Show
The Sword in the Stone
The X's
Tinker Bell (2008)
Tinker Bell and the Great Fairy Rescue
Tinker Bell and the Lost Treasure
Tom And Jerry
Top Cat
Total Drama Series
WALL-E
Wallace and Gromit Shorts (A Grand Day Out, The Wrong Trousers, A Close Shave and A Matter of Loaf and Death)
Wallace & Gromit: The Curse of Were-Rabbit
Wally Gator
T.U.F.F. Puppy
Underdog
Underdog (2007)
Winnie The Pooh
Winx Club
Wolverine and The X-Men
World of Quest
X-Men Evolution
Yakky Doodle
Yam Roll
Yellow Submarine
Yin, Yang, Yo
Yogi Bear
Yogi Bear (2011)
YooHoo and Friends
Zoom (2006)
A LIST OF PARODIES
Gabby in Wonderland (TailsRocks Style)
MY FAVORITE CHARACTERS:
Tails the Fox, Sonic, Amy (Tails's Girlfriend)
Jessie (Toy Story 2 and 3)
Ben Tennyson and Spidermonkey (Ben 10 Alien Force and Ultimate Alien)
Koda (Brother Bear)
Yogi Bear and Boo Boo Bear
Rouge and Wolverine (X-Men Evolution)
Mr. Bumpy (Bump in The Night)
Captain America (The Avengers: Earth's Mightiest Heroes)
Zak Saturday (The Secret Saturdays)
Dan Zembrosky (Packages from Planet X)
Grug (The Croods)
Tommy Dawkins (Big Wolf on Campus)
Kartsuma (Moshi Monsters)
Red Bird (Angry Birds)
Fanboy and Chum Chum
Yam Roll
Atom Ant
Gumball (The Amazing World of Gumball)
Chomp (Dinosaur King) (Tails's Pet)